CFM Blog
Increase the knowledge transfer within your fleet
Facilitate onboard crew communication and share knowledge across your entire fleet with the Blog module. Highlight important messages and exchange information on ports, specific regulations or useful internal insights. This way you can create a valuable knowledge base for your crew. On board, the blog module can be queried easily by full-text search or categories, presenting your crew information which is relevant right at the moment (e.g. ports on strike or other crew experiences on local service-providers).

Direct
Promote the direct communication and exchange of experience between your ships.
Central
Important information is provided on a central platform and reaches every crew member.
Compact
The most important information is made available on the clear dashboard.
All important information at a glance
The most important messages are highlighted on the dashboard and can be commented like every other message. This promotes the direct communication between your vessels and important knowledge doesn't get lost. With CFM Blog, you ensure that all your vessels benefit.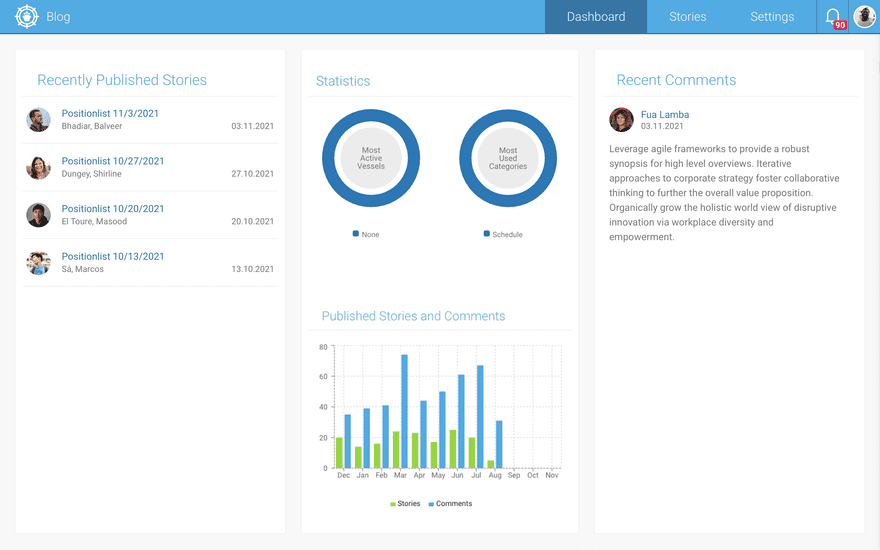 Key features
Encourages direct communication between your vessels

Option to comment on all messages

Important knowledge doesn't get lost and is accessible to everyone

The most important messages are highlighted on the dashboard