CFM Crewing
The all-in-one solution for professional crew management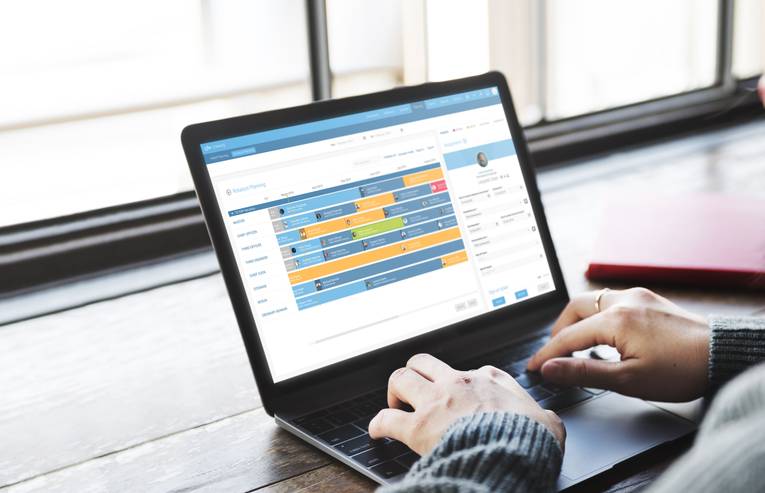 CFM Crewing enables you to handle and coordinate all crew related procedures in one central place. Thanks to a direct integration of your agencies you can streamline processes and minimise effort for communication. CFM Crewing's scope includes areas such as the master data management of seafarers, planning the crews on board as well as their relief, management of the working and rest hours of the crew.

Interactive
Benefit from efficient interactive teams on land and offshore
Detailed
The activity list shows you all modifications within staff data.
Integrated
CFM Crewing integrates other departments easily in your processes.
Connected
Connect CFM Crewing to accounting or cash systems for better payroll accounting.
Dynamic crew management
Receive all information concerning availability, performance, contracts or validity of documents regarding your selected staff. Use staff´s relevant expertise to build pools and save valuable time while choosing the right crew. You can also leave important notes on the dashboard of your ships and agencies.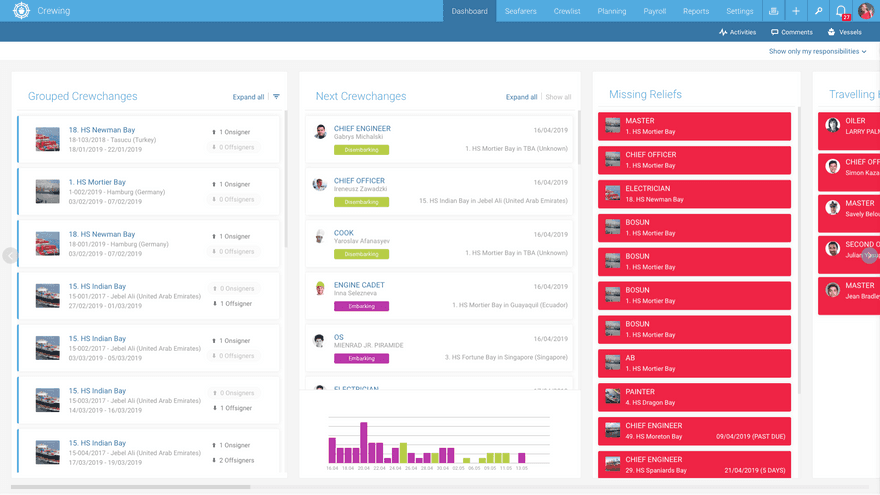 Cooperative payroll
Your captains can easily calculate salaries and deductions and synchronise them with the office with only one click. The data is automatically connected to the different types of salary. Moreover, it supports fast decisions concerning release and implementation of billing. Direct expenses can be run via our open interfaces.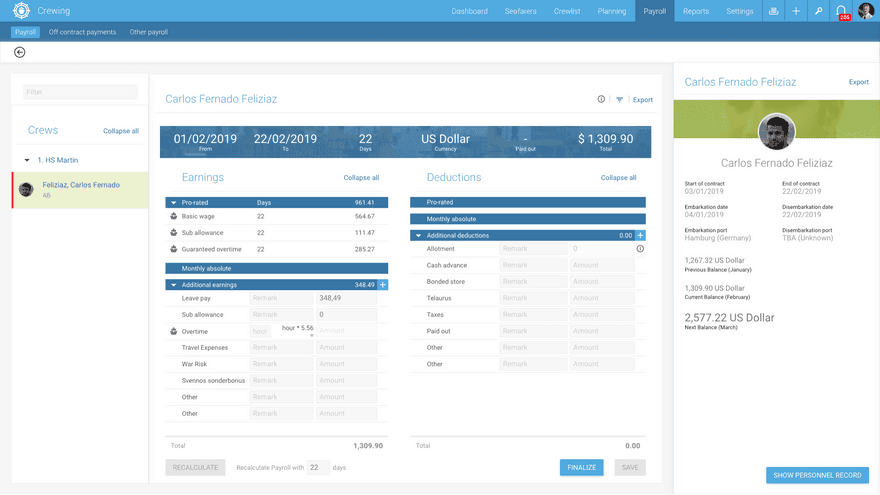 Detailed planning
The colour coding of your ships indicates which crew changes have to be prepared. The officer's matrix, the crew numbers as well as the intelligent proposal tool simplify the selection of adequate crew members. Synchronise your planning with Cloud Ship Manager and inform your ship management about replacement, time and place.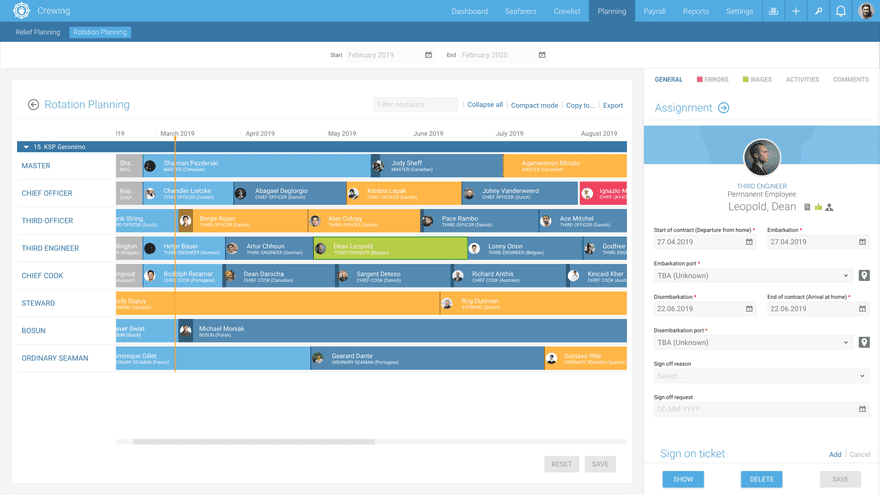 Our templates, your freedom
Managing crews, potentially from different nationalities, can be very time-consuming. Especially contract management can be an elaborate task since standards and restrictions can vary immensely. For the creation of crew-related documents, potentially hundreds of attributes can be relevant, and each company has a different focus. To create an individualised export of data usually takes a lot of time and customisation. With the templating tool for crewing, you can simply pick and choose from a huge variety of crew attributes to be included in your Word export. Simply create exports according to your specific requirements and benefit from the greatest selection in the market.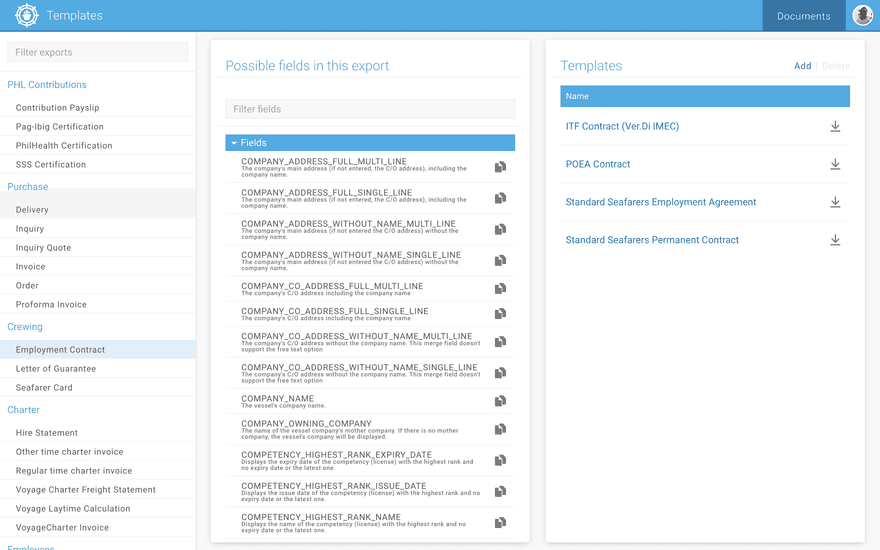 Crew Portal
The management of crewing processes becomes simpler and more transparent while simultaneously reducing administrative effort: The portal enables your seafarers to autonomously view and manage their personal data or documents and to access company news and shared data. All that is needed is an internet connection. This way the Crew Portal ensures that crew data is always up to date.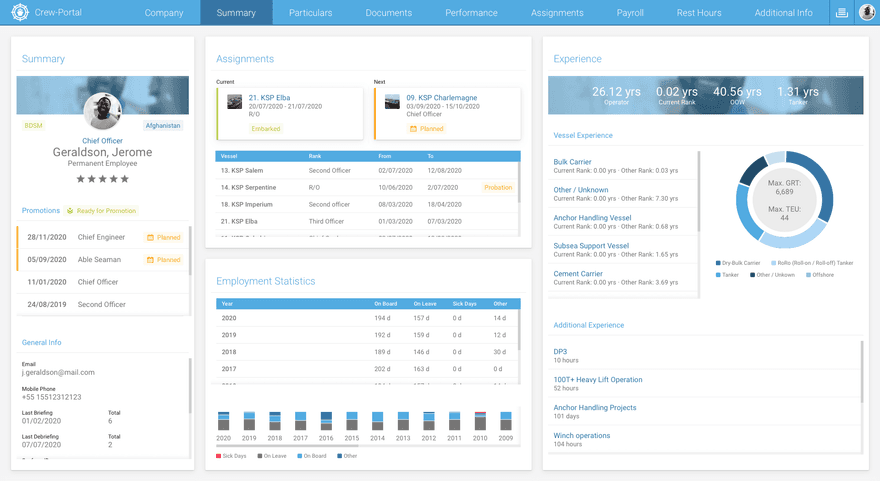 Key features
Crew data management, planning and payroll in one solution

Advanced navigation throughout the whole application with minimum clicks

Interactive dashboard reminding you of pending actions

Fast and intelligent search for seafarers by keywords or advanced filters

Extensive activity reporting

Focused crew status tracking by meaningful icons and colour indicators

Effortless crew planning with drag & drop

Continuous mandatory documents check and visualisation of errors

Officer's matrix with direct upload to OCIMF and Q88

Travel expense registration, experience management and performance reporting on board and ashore

Integrated reporting (e.g. embarkation, promotions, performance)

Automated suggestions on missing reliefs

Crew Portal, enabling seafarers to manage their data and documents autonomously

Capturing and verification of rest hours according to MLC 2006

Preparation of payroll directly on board or ashore

Flexible wage scale management for voyage and permanent contracts

Extensive role and rights management

Payroll-API to feed external accounting solutions (e.g. SAP)

Detailed setup of mandatory certificate requirements per rank on STCW-, flagstate-, company-, charterer- or vessel-level